Golf Help "Par and Beyond" DVD or Download


Techniques that Really Work!
After years of teaching this class in seminars, Dr. Teplitz created a video of his live program which has provided unbelievable results for people just like you. Whether you are a Professional, just beginning to play, or playing for pleasure, you will empower your game, or your money-back!

"
Everybody talks about playing in the zone but how do you get there? With what I have experienced I feel this video begins to bridge the gap from talking about playing in the zone to actually showing you the road map to get there. I am excited about incorporating more of the principles in my own game and also in my teaching"
Jerry Reymond; Lead Instructor
Summit Golf Academy, FL

"I have had a real problem with my putting from the three to eight foot range. The afternoon after your session I made five of the six putts I had in that range. Later that week I had a match play competition, which I won, on the fifteenth hole. I have played two rounds since then and averaged three strokes under my handicap. To say the least I have been pleased with the session and the experience."


Dennis Barnes, Sr.


St. Louis, MO


"My golf coach, Ed Hipp, had shared with me your DVD entitled Par & Beyond: Secrets to Better Golf. Not long after viewing this presentation, I had an opportunity to play golf, and to remember and utilize some of the information you share in this DVD. I was amazed to score my lowest score ever!! - a full 7 strokes off my previous best score!!"
Anne Moore
Golf Education and Player Development Chair
Hampton Roads Chapter - EWGA


Dr. Teplitz has put together an effective, rapid technique of "eliminating the negative and accentuating the positive" of golf in Par and Beyond: Secrets to better Golf!
Dr. James V. Durlacher
Author of Freedom From Fear Forever


"I avoided playing golf for the last 5 years because of the frustration and negative mental self-talk I experienced previously. After taking Par and Beyond, I was enjoyable hitting the ball relatively straight and sinking an unbelievable number of putts. What is amazing is that the misses didn't upset me. I was having fun!"
Guy Church
Grimsby, Ontario


"Within a week of watching the video my scores started dropping two to four strokes each round. I was finding that my drives were going longer and more in play than usual. I was a 16 handicap just a month ago. I've been hovering around 15-16 for the last several years. Since watching the program, I've dropped to a 14 and according to the computer I'm trending to a 12. Your video program allows me to concentrate and focus like I've never done before. It works!"



Shep Hyken, CSP


St. Louis, MO


"A dozen trips to the driving range couldn't do for my golf game what this session did. I have found a way to take stress out of my game. I now know there is a future for my game."


David Van Sickle


Ontario, CN


"I cannot remember when, if ever, I've had my mind blown so effectively. Thank you so much. The tools you present in Par and Beyond have been desperately needed by me for some time."


Ivan Mattson


Austin, TX

"Wonderful, important and necessary information for any golfer who seeks harmony and success on the course and beyond. Jerry not only demonstrates to you how to be successful...he SHOWS you how to teach yourself in simple and easy methods! GO 'FORE' IT!"
Joey O
Acrobatic Golf Comedian & Author of the Dream Seed
---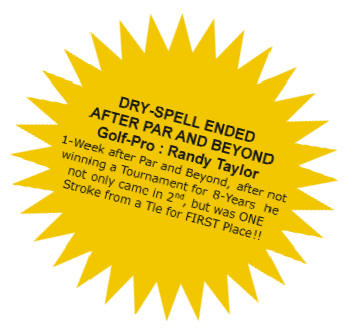 ---

Golf Help "Par and Beyond Secrets to Better Golf"
Watch Introduction: Par and Beyond: Secrets to Better Golf