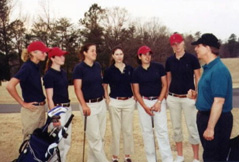 Dr. Teplitz
Coaching the
Women's Golf Team
at University of PA
"Utilizing just a few principles I had my best round in months with my driver. Every drive I hit was extremely solid resulting in longer and straighter drives.
I am excited about incorporating more of the principles in my own game and also in my teaching."
Jerry Reymond
Lead Instructor
Summit Golf Academy, FL
"I went to Par and Beyond to write about Dr. Teplitz' technique with a certain skepticism but soon realized everything he taught made sense.
When I got home, my next round of golf was my life's best and now the techniques are part of every round I play!"
Tom J. Fox
Writer
T&L Golf Magazine