Take the opportunity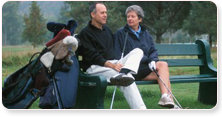 to take strokes off your game effortlessly.

In fact, the feedback from the Golf-Seminar attendees was so overwhelmingly positive that Dr. Teplitz created a DVD of the seminar so every golfer would have the opportunity to experience the power of Performance Optimization.

Pro-golfers have reported immediate improvements to their game. Duffers have reported shooting their personal best by applying the techniques they learned from watching the DVD.
Golfer's Success
This information is so powerful that Dr. Teplitz sells this DVD at his seminars for $95.00. He has decided to offer a special internet only price of $39.97. . You just pay shipping and handling!
To convey to you how this powerful Par and Beyond DVD will impact your game, he gives you a 60-day money-back guarantee. This gives you plenty of time to watch the DVD, go out on the links, and see if what other golfers who have watched the DVD have experienced is true for you as well.

By the way, T&L Golf Magazine recently dubbed Dr. Teplitz as one of only seven Head Masters in the country.
Take advantage of his powerful approach allowing you to optimize your energetics and brain performance and immediately improve your game.